Witches Brew
The perfect wicked girls' weekend in Salem
It's only natural that "Witch City" would make for the ultimate girls' weekend. Not Vegas, not Miami or NYC, but Salem, Massachusetts, known best for its infamous witch-hunts, hauntings, Halloween die-hards, and those with a soft spot for the macabre. Girls who love Salem are my kind of girls.
During the Salem witch trials (1692-1693) more than two-hundred people were accused of wielding the "Devil's magic" — witchcraft. Twenty were killed, mostly hanged, or tortured and "pressed" (that is, literally put between two boards and pressed down on until they died — not burned at a stake, as popular myth has it). We now know it was all over land, money and good old fashioned greed and jealousy.
The image we have of so-called witches actually included some of the earliest entrepreneurs, and were businesswoman beer-sellers. The long, pointy hats were indeed worn — so they could stand out in a maddening crowd in case someone wanted a drink. They weren't ugly or anything menacing, that's just folklore, along with the fear that witches would steal men's penises while they slept and keep them as pets. (One can analyze…)
There's no better time to tell people: "We are the daughters of the witches you could not burn." Am I right?
As a gift to girls like me who favor historic cemeteries over pick-up bars, I've put together a rough itinerary for the perfect low-key weekend I've enjoyed many times over in one of my favorite cities.
FRIDAY
STAY
Salem is so small that every hotel is centrally located, but I've always stayed at the historic Hawthorne Hotel. Having been around for nearly a hundred years, it's an anti-hipster hangout doused in tradition, also known by some questionable gossips as the most haunted hotel in America.
Its design won't "wow" you — it's not meant to. What it lacks in modern amenities, it makes up for in comfort: large rooms, great prices, and it's dog friendly, too. If you want something more modern, The Hotel Salem is a gorgeous new hotel right in the middle of beautiful cobble-stoned Essex Street. If it's warm enough, visit their stunning roof restaurant, and have a coconut margarita that's to die for.
Another hotel, which looks out over the water, is the sensibly named Salem Waterfront Hotel & Marina, an attractive and straightforward place with the advantage of being very peaceful at night. The ground floor Regatta Pub is fun.
LUNCH
Right there in the Hawthorne are two restaurants: Tavern on the Green and Nathaniel's, the former serving more casual, hearty, crave-worthy fare, and also commonly known as "The Tavern". This is the perfect place for a group who's just arrived to chill out and plan their next move next to a roaring fire in a cozy atmosphere over chowder, burgers, amazing salads and local beer. And perhaps the best (and biggest) warm Belgian pretzel in an American restaurant, delicious with the mustard and magical cheese dips they serve alongside it.
R-E-S-P-E-C-T-(S)
It gets reeeeeeeeeaaaal chilly down by the sea port Pickering Wharf — but you have to go! On your way down be sure to pass through the Charter Street Cemetery, which has an ominously fantastic ode to the witch trials, with famous last words etched in large stone, including: "I DO PLEAD NOT GUILTY." Magistrate John Hathorne, the sick and twisted judge who persecuted all those innocent people and sent them to death, is buried there. When you go try to imagine a world where people sit around and watch injustice being brought upon innocent people, especially women, when a selfish, dictatorial, money-grubbing, lying man-in-power will stop at nothing to satiate his need for greed.
#history
SHOP
Swing by Curtsy on Front Street, the cutest little boutique, and the best place for women's clothing, hands down. Modern Millie is an excellent store for curated vintage finds. Roost & Company has great cards and trinkets and things you don't need, but will definitely want. They also have wonderful coffee table books, candles and kitchenware. Around the corner, Oak + Moss has slightly more upscale home goods and gift items. Buy some cheese and wine at The Cheese Shop of Salem to bring back to your hotel room for later, or and perhaps some extras for home. Their cheese selection is top drawer, as good as anywhere I've seen. Their wine selection is quirky and sophisticated.
Pamplemousse is a wonderfully eccentric specialty food, wine and kitchen goods store nestled amidst the psychic and souvenir shops on Essex Street. Their wines are almost exclusively from little known producers from America, Spain, Argentina, Italy and South Africa, and their suggestions are invariably gems.
TOUR
The House of the Seven Gables, from that book you read in high school, is down along the wharf, and it's fun to learn more about how people lived and the history of Nathaniel Hawthorne, who added a "w" to his last name as a proverbial middle finger to his great, great grandfather John Hathorne (see above).
DINNER
You will not starve in Salem.
What are you in the mood for? Low-key Indian? Try Passage to India. It's uncommonly good; I sometimes go to Salem just to eat there when I'm in Boston.
If you'd like more Mediterranean, try Adriatic. There are some great fish places, some even a little more upscale, down by the wharf, too.
SATURDAY
TEA FOR THREE (or four, or whatever…)
I'm pretty big on breakfast in bed, but if you're not in the mood for anything too heavy, go across the street to the Jolie Tea Company where you can have a tea you've never tried before with a scone or macaron. This is also a great idea for the afternoon, too, since trying all the macarons is half the fun. (Salem also has a Starbucks, if that's more your speed.)
GET STONED
Nothing bad ever came from a hot stone massage at Living Well. They have a variety of much-needed treatments here, including facials and acupuncture.
ALL OF THEM WITCHES
There are so many great witch museums in Salem, but for a crash course in all things witchy, go to The Witch Museum.
LUNCH
Do you like oysters? Sea Level Oyster Bar is a great way to have fresh seafood and stare out at the humble harbor and plan your day. (Everything on the menu is so good, in case you have a shellfish allergy like I do!)
The Howling Wolf is a yummy and relatively inexpensive Mexican joint that's always packed for a good reason.
TREATS (NOT TRICKS)
Harbor Sweets is known for their wickedly delicious buttercrunch, though everything there is shockingly affordable for handmade chocolate. They're traditionally closed on Sundays, so be sure to stock up. If it's warm enough for ice cream, you must try Captain Dusty's, in the vicinity. Don't be put off by its dive-y interior. If you want to act like a New Englander, get the black raspberry, though all of their choice select flavors are out of this world.
I CAN SEE FOR MILES
You simply can't go to Salem without having your tarot cards read. She's hard to get an appointment with, but for a very special treat, try booking a reading with Salem-based witch Laurie Cabot at her store Enchanted. If Laurie's not available, go see David Newman at Omen on Essex Street. Make sure you do this before dinner, so you can compare notes.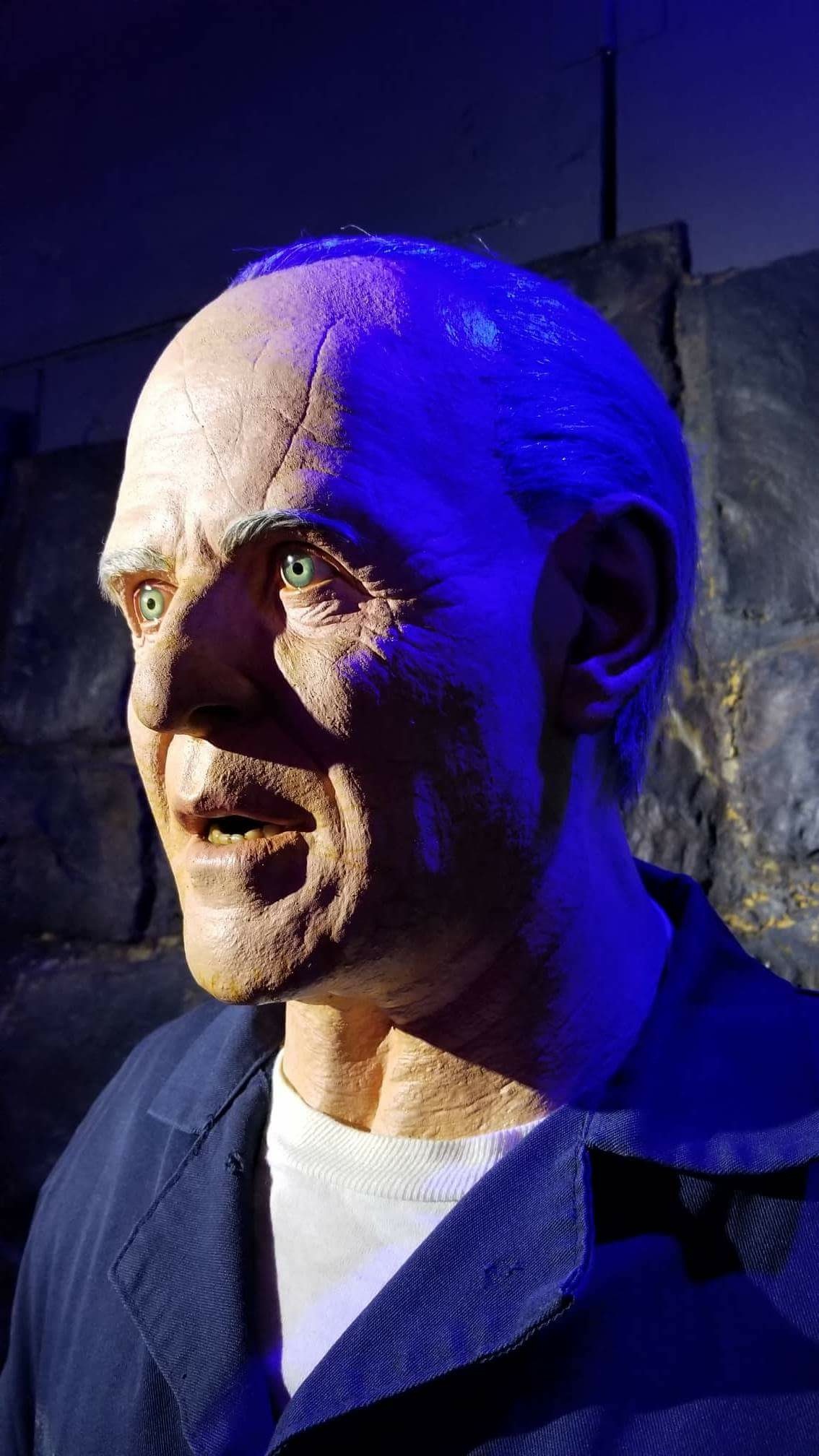 WELCOME TO MY NIGHTMARE
If you love horror movies as much as I do, you won't want to miss Count Orlok's Nightmare Gallery, where the owner has collected some of the coolest memorabilia and displayed it with life-sized wax figures of Regan from The Exorcist, Bela Lugosi, and all their ghastly friends.
AN APPLE A DAY…
Far From The Tree is a walk (or short drive) from the center of town, but this place is exclusively hard cider, with trivia nights and delectable tastings, too.
DINNER
Bella Verona is a super-sweet little Italian trattoria across from the Hawthorne Hotel. In stark contrast, Opus is a trendy Asian-fusion place with an eclectic menu, including sushi and a killer drink menu, just be sure to call for reservations on a weekend.
IF YOU HAVE THE TIME…
All of the tours in Salem are really fun, and there are so many. The Salem Witch Walk takes you all around the center of town with tall tales of the amazing women and their legends that live on. No surprise, these tours are best at night.
SUNDAY
BUT FIRST, COFFEE
You'll be sad to leave today, no doubt, so why not take a good once around town again before you go. Head down to Jaho on Derby Street to grab a cup of cappuccino and one of their amazing of-the-day cakes and pastries. (The reason I left this for last was so you could buy some to take home!)
CULTURE YOURSELF
Want to say you did something cultural while there? Stop by the Peabody Essex Museum, it's small enough that you can do the whole museum in whatever time you have left, and there's always something amazing going on, from Rodin and Georgia O'Keefe exhibitions, to the history of shoes. And their gift shop is full of beautiful art books, alongside fascinating books pertaining to whatever current exhibitions are running.
LUNCH
Grab some of the best handcrafted pizza of your life at Bambolina where it's so much fun to watch them make it (try the scrumptious asparagus soup!).
DON'T FORGET…
Teach your daughters (and sons!) about all of the amazing women throughout Salem's history who were shoved down, or killed, because of their power. Make sure you buy lots of trinkets and t-shirts to remind you and everyone you know that you're not afraid to channel the witch in you when you need her.